About Preston
Our mission is to provide cost-effective world class education in a safe, peaceful, disciplined and intellectually stimulating environment. Our team of dedicated and well-trained teachers purpose to raise fine, well-rounded, well-educated, well-cultured, respectable, God-fearing ladies and gentlemen who will make huge contributions towards the promotion and protection of human dignity in our society. We aim to achieve this through the effective deployment of state-of-the-art technology and modern pedagogical approaches in addition to rich moral instruction – which reflect our Christian ethos.
Philosophy
We are ardent proponents of social change. We believe that the highest level of human achievement is service - service to God and man. In our own little way, we have conceived the creation of Preston International School as our contribution towards the betterment of educational opportunities available to young people in our society.
We hope that through the cost-effective provision of world-class education at Preston International School, it can be demonstrated that a lot more is possible than we think. We believe that our youngsters deserve better and that there is enough success for all. With a bit of human will, we can all work together to stamp out the scarcity mentality so prevalent in our society and replace it with the abundance mentality where everybody is a winner. Together, we can do great things and leave behind us a lasting legacy by making a big difference to the lives of many, hence our motto - "WE ARE ABLE!"
About Our Logo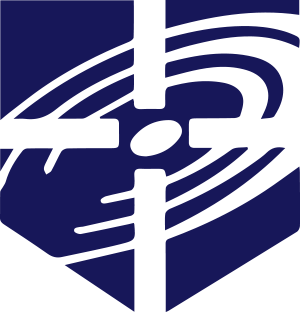 Our school logo designed to capture the essence of our mission, is a much more contemporary design than the traditional crest. Our logo is composed of the cross and waves radiating from the middle of the cross. The cross - the traditional emblem of Christianity symbolises our Christian ethos and beliefs while the waves demonstrate the far-reaching, powerful influence and potency of embracing Christian principles not only in our lifestyles but in all aspects of human endeavour including academic excellence. Our vision to bring about real and lasting change in our society through the cultivation of morally healthy and well-educated young minds will be realised in our society in due course.
The school is named after a city in England - Preston. Preston was founded by priests and as such was called "Priests' Town" and was later shortened to "Preston". Priests are consecrated, self-less people, whose main duty is to serve God and man. We believe that this is the highest level of human achievement - service to God and man. 'Prestonians' therefore, are ladies and gentlemen who are being brought up to serve our nation selflessly with a sense of true patriotism and an abhorrence of the selfish attitudes and narrow-mindedness prevalent in society today.
Why Preston?
Personalised Learning – Following the "Every Child Matters" agenda, Preston International School seeks to ensure that every child is safe, healthy, enjoys and achieves through learning, makes a positive contribution to society and achieves economic well-being. An individual education plan (I.E.P.) is drawn up for every child ensuring that he/she makes progress in every subject. At Preston, we benchmark pupils as individuals, carry out a detailed diagnosis of their areas of weakness before embarking on a vigorous trouble-shooting exercise which will culminate in every child making progress over and above what is expected.
In the Right Hands – It is unusual to have a school of this scale with professional teachers in the driving seat. Traditionally, teachers do not have the wherewithal to embark on such projects leaving the industry to business men and women whose passions are not necessarily in the art of teaching and learning. At Preston, we have really committed, enthusiastic, visionary and passionate teachers whose first and only interest is in teaching and learning and making a real difference in the lives of many children. The proprietors are professional educationists of international repute having worked for many years in Nigeria and abroad.
Interactive Whiteboard Technology – At Preston, we are committed to using the most current tools in our teaching. Following the success of the interactive whiteboard as a tool which has been responsible for accelerating pupil learning globally, all our subjects are delivered with the interactive whiteboard playing a huge role in the dissemination of knowledge. The interactive white board essentially "projects" the computer's screen. By the touch of your hand on the screen, the teacher or student, can navigate through the computer applications, thus, creating an exciting and new way to introduce and enhance teaching and learning activities. We have numerous interactive whiteboard resources including the internet. In a Geography lesson for example, pupils will be able to virtually 'visit' several places in the world, zoom in on the atlas and hear the people of those regions speak. The interactive whiteboard definitely takes V.A.K. (Visual, Audio and Kinaesthetic) learning to a new dimension.
Superb Facilities – As a school offering world class education, we are in the process of building a campus with every desirable facility to make a child's six years residence a truly memorable experience. First class boarding facilities, library, laboratories, I.C.T. suites, health centre and sick bay, dining hall, sports fields, swimming pool, etc.
Cost-effectiveness – By employing cost-saving financial strategies of world-class organizations, the location of Preston International School in the suburban countryside has meant a reduction in costs when compared with bigger cities. With Akure airport less than ten minutes drive from us, reaching us by flights from Lagos and Abuja could not be easier. Also, fresh food and fruits from farms at reduced costs mean that we can pass these savings straight on to you – the customer, giving you excellent value for your money. As an organization that believes in Total Quality Management, Preston adopts very stringent measure in ensuring that processes within the school - whether it be in teaching and learning, pupil behaviour or administrative work - are all very efficient, well thought out and grounded in our overarching philosophy of excellence.
Reasonable Fees - Our fees are very reasonable. The facilities that we have provided such as our VSAT internet facilities with exclusive domain-based email for every child, Perkins generator (with additional back-up), above average boarding facilities with hot water heaters, drinking water dispensers, treated boreholes and lots more suggest a high fee paying school but the contrary is the case. This is on purpose. Our mission is to offer affordable, cost-effective world class education to the average Nigerian family and as such, are fees are moderate and comparably lower to similar schools. Here at Preston, we give excellent value for money!
We Value People – Preston International School is a people-oriented institution. We value people. Your contributions will be highly valued. We are change agents with a social change agenda in support of the common man and we believe that with your support, we can do really great things. We have started and we invite you to join our campaign by choosing Preston International School.