Preston Joins Others to Celebrate Nigeria's 63rd Independence Day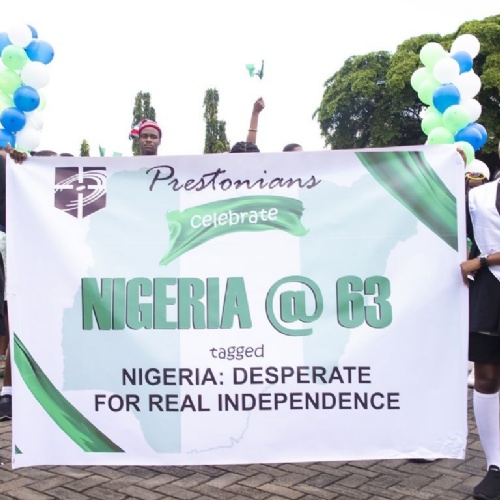 Preston International School on Monday, 2nd October 2023 joined in the celebration of Nigeria's 63rd Independence Day. A colorful event it was, as students participated in fun activities such as Early Morning Parade, Face of Preston, Speech and Talent Presentation on the theme - "Nigeria: Desperate for Real Independence".
The day started with the early morning parade where students echoed choruses led by the school band in honour of our dear country, Nigeria, which culminated in an address by the school's vice principal, Mr Jegede. He encouraged Prestonians to keep developing themselves as they are the hope of this great nation.

The day continued with speeches which centered on the theme, Nigeria: Desperate for Real Independence. It was a moment to see these great chaps roll back the curtains of memory of heroes who have laboured for the good of this country, review the current situation of the country and proffer solutions that will make this country great again. It was indeed an educative session.

The capsheaf of the event was the display of talents by each house; Aqua - drama, Shekinah - dance, Terra - drama, Tornado – dance to bring home the theme of the event.

The day was finally brought to an end with the cutting of the independence cake.
It was indeed a remarkable day of celebration here at Preston International School.