Preston Shines Bright Amongst International Schools At The 2023 AISEN Prefects Course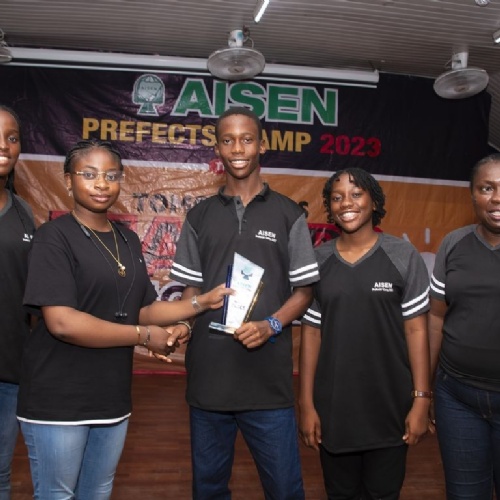 By Eke Kamsiliochukwu (Year 11)
The 2023 AISEN Prefects course scheduled for 2nd June to 4th June kicked off with the lengthy journey which turned out to be well-rewarded as our school bus finally drove through the Greensprings School gate, leaving in our dust the Lagos traffic that seemed would never end.
It had felt like Christmas morning that humid afternoon, as we were each given a brand-new backpack stoked with all sorts of exciting stuff. A jotter, pen, tag, highlighter, some sticky notes, a shirt, bandana and even a keyholder that lit up!
The programme officially started with seminars on Leading with Emotional Intelligence, Team building alongside numerous fun and engaging activities as participants were distributed into nine different groups in a bid to help everyone break out of their shells and bask in the light of socialization.
The second day started with general morning devotion and aerobic workout followed by the enjoyable breakfast of pap and bread/akara/moi-moi having scrubbed off the grime.
Consecutive seminars on Value-Based Leadership, Leadership Styles, Goal Setting and Time Management spiced with light refreshment breaks in between, engaging activities like holes in the cup, obstacle course trips, Trust Walk which taught various life skills like effective communication, cooperation, the true value of having faith and trust in one's partner in whatever we do.
The day also had fun activities such as couple rounds of Tug of War which was first participated in distributed groups after the quick round of Boys vs Girls where the girls' team claimed the landslide victory, following an hour of general sports.
The day was brought to a close with the Line Dancing activity where participants were taught a simple dance step and then given time to practice and then perform it as a school. Preston's performance wowed the audience as they added a bit of Michael Jackson's jazz and some other fun dance moves.
The third day which seemed the last started with the morning devotion where Prestonians led the praise and worship session which set the hall to receive an aura of the spirit realm as Mr John charged the audience on the attitude of gratitude. The breakfast had various options stocked in the serving points like bread, cereal, milk, both fried and scrambled egg, sausages, baked beans, jam, butter, Lipton and even slices of watermelon. It was downright delicious, every single part of it.
Following the breakfast was an activity to educate the participants on Effective Communication, where they were made to, in their various groups, describe each of the pictures to teammates and then, without seeing each other's cards, arrange them in a sequential order. It was beyond tasking, but also beyond fun.
The event was crowned with the presentation of awards where Prestonians were utterly ecstatic as Preston bagged third position overall.
A big and hearty thanks to God, our dear esteemed parents, accompanying staff members, media crew, facilitators and everyone else who made this course of training tomorrow's leaders today, a successful one.