Preston's Robotics Team Bagged 1st Place Category Award Amongst 66 Teams from 40 Countries at the 2023 FLL Open Championship in Marrakesh, Morocco.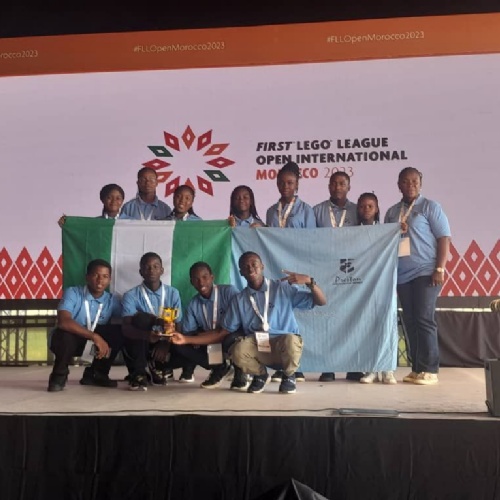 Yet another win for Preston International School as our Robotics Club members (TechnoMind Team) having won at the first round on the 14th February, in Abuja, FCT; represented the school and country in the 2023 FLL Open Championship in Marrakesh, Morocco and emerged the only Nigerian School returning with a 1st place category award amongst 66 teams from 40 Countries across the world.
The event aimed to bring together hundreds of young innovators, scientists, engineers, educators, and enthusiasts across the world to explore new ideas, share knowledge and experiences, network and celebrate unity of purpose and diversity.
Upon their arrival at Marrakesh, they had a tour round the city with other representatives from 4 other schools, where they enjoyed all sights and sounds as they visited Marrakesh Hall City, City Mosque, The City Market, Ministry of Education, the wall of the King's palace. The students swung into action during their test-run session where they were summoned by the panel for a test practice.
After several practices, the time came to defend their Core values, Robot design and Innovation project where they displayed future models on how to generate electricity through the combination of wind energy, solar energy, and piezoelectric energy. The judges displayed good sense of humour and were pleased with the presentation and commended the team's good time management.
The students also enjoyed friendship events at Palm's Events, where the team had the opportunity of meeting with other teams. It was fun!
The most exciting moment was the closing and award ceremony where Preston bagged the 1st position award for "Gracious Professionalism" category.
Praise God!!! Congratulations to us all. This exposure is an experience we owe to God Almighty and to our supportive parents who have made this happen. Thank you very much once again, dear parents.
Well done, Team Preston, Mr Kingsley Ekanem, their coach and Mrs Mary Adegbohun for your care over the children.
This feat is forever etched, not just only in the memories of our students, but also on their CV and life stories, having represented their school and country in the FLL Open Championship Morocco 2023 and the only Nigerian School returning with a 1st place award!!!
Glory be to God. We look forward to participating in future events by God's grace. Amen.