Preston's 13th Prefects Installation Ceremony (2023)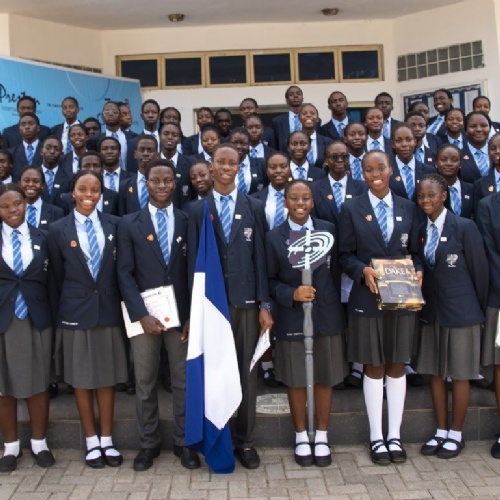 An exciting moment it was on Wednesday 4th May 2023 as Preston held her 13th Prefects Installation Ceremony in a Spirit-filled and highly inspiring atmosphere. The event was well attended by many of the parents of the newly installed prefects and lovers of Preston.
After the graceful procession of the old and new prefects into the hall, the audience was treated to a range of melodious musical preludes such as 'Jesus Is Taking Care of Me' – a song by Moses Bliss and Mercy Chinwo rendered by Tornado House Choir, Oceans by Hillsong rendered by Proprietor's Choir as well as Tobechukwu by Nathaniel Bassey and Mercy Chinwo - Trumpet Solo by our seasoned trumpeter; Olaoluwa Fatukasi.

Our guest minister and parent of one of the new prefects, Dr. Isinkaye in his admonition to the new prefects, shared the need for a leader to lead by example taking his text from 1 Peter 5 vs 3-5. He concluded with the qualities of a good leader stressing more on selflessness – which is a call to service. Afterwards, he, with the entire congregation joined voices to pray for the prefects.

The Proprietor, Mr. Toyin Ajayi led the new prefects through the oath of office before the outgoing president, Oghenefejiro Umuerri and the incoming president Chinanza Okoli expressively gave remarkable and highly inspiring speeches that sparked confidence and readiness for what is ahead in everyone's heart.

The school choir's grand finale 'Ore Baba Ga' – a song composed by one of Preston's music teachers - again swept the audience off their feet. It was indeed a remarkable day for everyone.

We wish the new prefects a great tenure of office even as we thank the outgoing prefects for a very successful tenure during which Preston witnessed lots of positive changes and excellent all-round performance.

Preston International School - a FranklinCovey Leader-In-Me School.
Click here for pictures