Year 12 Students Celebrated 2023 Easter Monday At Ikogosi Warm Springs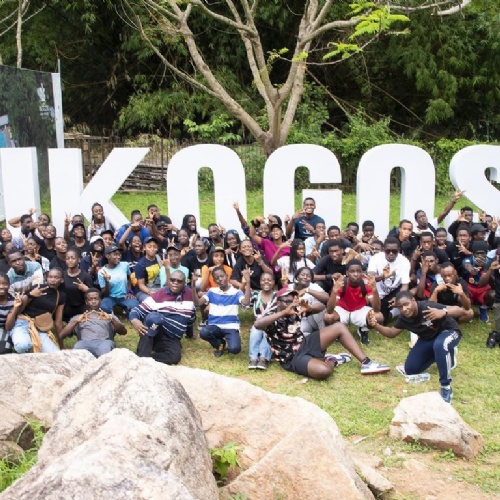 What an incredible way to celebrate Easter Monday as our Year 12 students embarked on an excursion to the Ikogosi Warm Springs Resort located at Ikogosi, Ekiti State, southwestern Nigeria.
We are grateful to God to have brought back our tradition before the Pandemic, of taking our Year 12 students out during extension in order to achieve that balance of the saying, 'All work and no play makes Jack a dull boy'…and Jackie, a dull girl too.
They were served with lots of exciting moments ranging from observing features of the resort such as the thick and green plantation, rolling hills, to mythical historical background surrounding the meeting point of the cold and warm springs with both maintaining their thermal properties at the confluence.
After the tour, we had the 'form a big circle' around the Proprietor under the mercy tree where we had lots of sumptuous food, snacks and drinks.
The capsheaf moment was the meeting of Her Excellency, the Deputy Governor of Ekiti State, Chief (Mrs) Monisade Afuye, who paid attention to Prestonians' courtesy, discipline and organizational skills during her visit to the resort and upon interaction, commended the Proprietor for the good works heard, and commendable coordination of the students.
Kudos to the Management of Ikogosi Warm Springs Resort for their outstanding reception received.
Kudos to our lovely parents – Mrs Ajayi, Mrs Adeniyi and Mrs Ogundipe and lovers of Preston who welcomed us at the resort.
Kudos to the Director of Preston International School, Mr & Mrs Ajayi for the wonderful memories that will linger in the hearts of the Children.
Kudos to all accompanying adults, the Proprietor – Mr Toyin Ajayi, the Head of Boarding – Mr. Ben Omomehin, the School Nurse – Mrs. Funke Esan, our Media Director – Mr. Oluwafemi Ogunmakinju, our lovely houseparents and the school drivers for your unwavering support in making this a huge success. GOD BLESS YOU