2022 Christmas Concert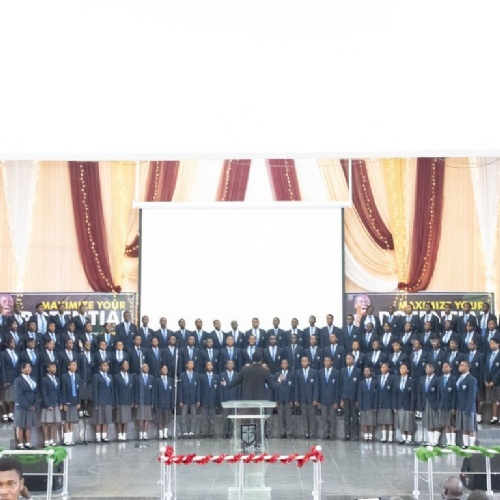 The 2022 Christmas Concert which held on the 15th of December, 2022, and was themed Sing His Birth, was yet another breathtaking end-of-year event. The school chapel which sat parents and well-wishers was abuzz with excitement as the audience was treated to different colourful presentations ranging from the dazzling performance by the school's Salem orchestra, the electrifying carols of the school choir, the drama troupe's presentation to spoken word poetry by year 11 students, Okoli Chinaza and Bawo-Oteri Timeyin.
The school choir and orchestra performed works of the masters like Glory to God and Sing unto God by G. F. Handel, Mary Did you Know – an arrangement by Pentatonix, Oluwafikayomi Oladehinde and Caleb Yesufu's violin duet presentation which will stay etched in the hearts of admirers as their dexterity on their choice musical instrument birthed smiles on people's faces.
The choir also rendered compositions from the works of some of the school's staff. Ode to Joy – an arrangement by the school's Salem Academy of Music Coordinator, Oluwafemi Ogunmakinju was presented by the school orchestra.
Others are Keresimesi De by our vocal maestro, Ms Wuraola Onayo, O Come all ye Faithful, Rejoice for the Lord is King, and A bi Olugbala – arrangements from Preston's eminent composer, Oke Awosusi.
Other stellar performances that blew the mind of the audience are the school drama troupe's playlet tagged Sing His birth, E lu Agogo rendered by the staff choir, trumpet Christmas tunes presented by Oluwasegun Apara, and the proprietor's choir's presentation of Reckless Love by Cory Asbury and Salvation Has Been Brought Down by Albert Edward Brumley.
A major highlight of the event was the catchy rendition of Wunmi and Oke Awosusi's Rejoice for the Lord is King by Fanougbo Tejiri.
The event was indeed a blend of beauties in celebration of the King's birth.
Our appreciation goes to the school's music directors, our esteemed parents who travelled from far and near as well as those who registered their presence online to grace the occasion, media personnel, our dear cherished students and all those who made the concert, a successful one. God bless you all.
Click here for the pictures.