2022 Christmas Luncheon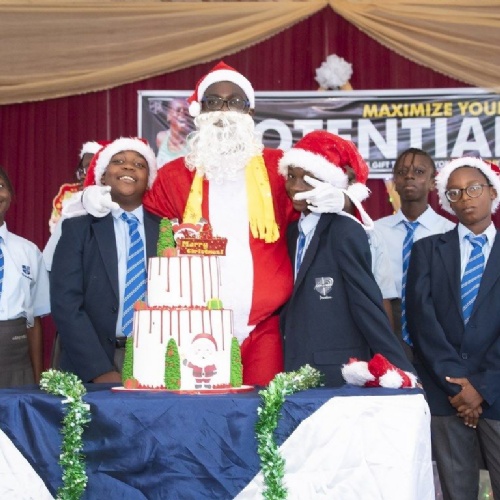 The Directors - Mr. Toyin & Mrs. Funmi Ajayi, once again hosted all staff and students at the Christmas luncheon held in the school dining hall on 15th December, 2022. This year's programme which started with everyone raising their voices in singing, Hark the Herald Angels Sing; the work of a german composer - Felix Mendelssohn, featured talented staff members such as Ms Wuraola Onayo - a composer par excellence and Mr Oluwasegun Apara - our ace trumpeter.
The event which had enough of sumptuous delicacies and a massive cake (masterly crafted by Cakes and Pastries) devoured as dessert, set a joyful atmosphere for all and sundry.
Oluwatobiloba Aturamu - one of our Year 12 students was our Santa Claus, brightened everyone with his entrance as the popular song 'Santa Claus is Coming to Town' reverberated through the hall as he shared gifts for everyone.
It was such an event that will linger in the hearts of everyone.
Click here for the pictures.