Preston Hosts Maiden Inter-School Spelling Bee Competition In Ondo State, Nov 2022.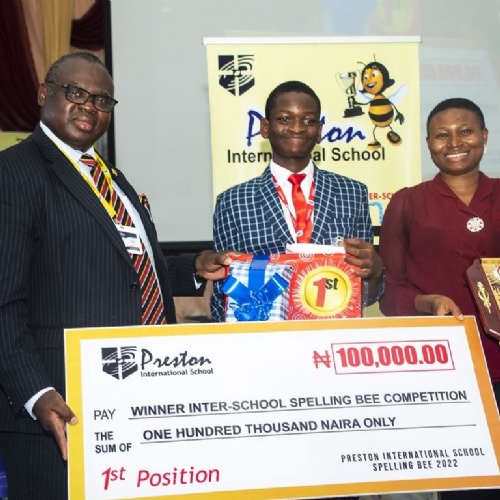 In a bid to keep youngsters goal-oriented, competitive and resilient by creating more enabling platforms for youth education and empowerment in our community, Preston International School launched her maiden edition of the inter-school spelling bee competition on Friday, 11th November 2022 with the theme – "Unlocked Letters of the Champions".
This event that had in attendance 19 schools in Ondo State with a total of 40 spellers was one with a difference as the spellers showed their dexterity with letters. After the fifth round, Bejamin Ademola-Rogers from Telnet International Schools, Blessing Rotimi from Christ the Redeemer's International School, and Tinuade Mafimisebi from Telnet International Schools came 1st, 2nd and 3rd respectively.
To wrap up the event, certificates were issued to both participating schools and spellers with lots of whooping prizes including cash prizes of 100k, 60k, 40k for 1st, 2nd and 3rd positions respectively.
Sincere appreciation to our reputable judges – Pastor Dele Afariogun, a seasoned educationist, State Sec, Association of Nigerian Authors (ANA) Ondo State Chapter and Mr. Friday Adodo, OAP, Broadcaster- Radio Nigeria Positive 102.5 FM, Akure, for their outstanding delivery. God bless you Sirs.
A big thank you to all schools that participated in this year's edition, we are grateful for honouring our invitation. Thanks to all family and friends, gentlemen of the press and all media personnel that graced the occasion.
To the winners of this year's edition, never rest on your oars as the sky is your stepping stone and to other spellers, never give up, keep pushing hard!
See you all again at the 2023 edition by God's grace! Amen.
Check out the pictures here.