Preston's 11th Prefects Installation Ceremony (2021)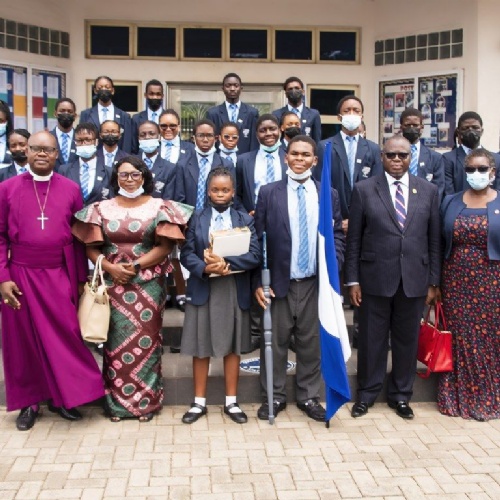 On Monday the 20th of July, 2021, the 11th Prefects Installation Ceremony held at Preston International School in a Spirit-filled and highly inspiring atmosphere. The event was well attended by many of the parents of the newly installed prefects and even our own alumnus Anabel to the delight of her juniors.
Our guest minister for the event, The Right Rev. Dr. Fagbemi (Bishop of Owo Diocese) gave a very insightful sermon on servant-leadership drawing his text from Matthew 20:25-28 - "Ye know that the princes of the Gentiles exercise dominion over them, and they that are great exercise authority upon them. But it shall not be so among you: but whosoever will be great among you, let him be your minister; And whosoever will be chief among you, let him be your servant: Even as the Son of man came not to be ministered unto, but to minister, and to give his life a ransom for many."
Again, the audience was not disappointed by the soul inspiring Preston Choir and Orchestra who thrilled the audience with renditions such as 'Walk About Zion', 'A Mighty Fortress' and a thrilling solo - Rolf Lovland's (Secret Garden), 'You Raise Me Up' masterfully delivered by Ibifiri Assah followed with an applause that nearly brought the roof down.
The Proprietor, Mr. Toyin Ajayi led the new prefects through the oath of office before the outgoing president Osere Ogbidi and the incoming president Tomiwa Monehin gave remarkable and highly inspiring speeches that sparked confidence in everyone's heart.
Click here for the pictures.
All in all, it was a day to remember for the entire school community, and we are sure that once again, the school has a set of prefects that will take the school to the next level by God's grace.